Categories

Nutrition, Recipes, Wellness
Bye Goya… now what??? Healthy Seasoning Options
Recently, many have said #ByeGoya (and understandably so!), but beyond politics… if you've been following me for a while, then you KNOW I've always been so vocal about the crazy NASTY chemicals lurking in most of the store-bought seasonings.
After my mom's cancer diagnosis, one of the FIRST things doctors told her to stop consuming was 'sopitas' (bouillon cubes) AND those sazones. It's NO brainer, just look at the ingredients list in the photo I posted on my Instagram stories the other day: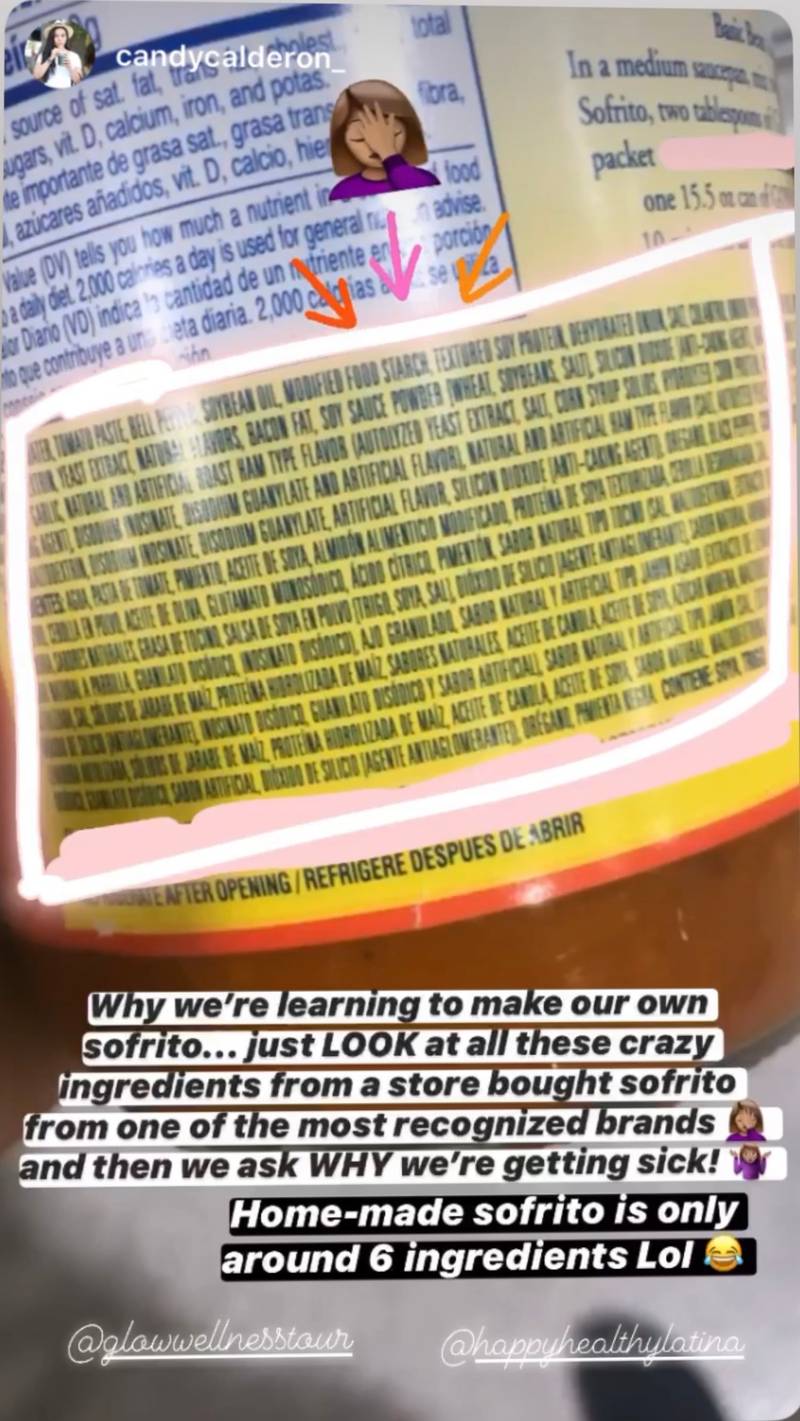 So in light of this, I wanted to make a compilation of suggestions of my favorite (healthy) seasonings you can make from scratch OR purchase because I know… "life", sometimes we just don't have the time to do it from scratch.
Healthy Seasoning Options
– – –
OPTION # 1: Make your own Sofrito!
Sofrito is a delicious blend of herbs, vegetables, and spices used to season and cook meals. 🥒🌶🍅🌿 This one is super special, as it is a 'healthy-fied' version of the regular recipe our moms, and abuelas made using some extra healing ingredients to boost the nutritional value of the sofrito.
And because I freaking LOVE YOU, I decided to make available (for FREE) the amazing 'Healthy Sofrito Cooking Class' we had at our virtual Glow Wellness Tour event this past Jun. 20th. The class was directed by my friend, Chef Yadira Garcia where she guides the step-by-step to her FAMOUS (healthy) SOFRITO.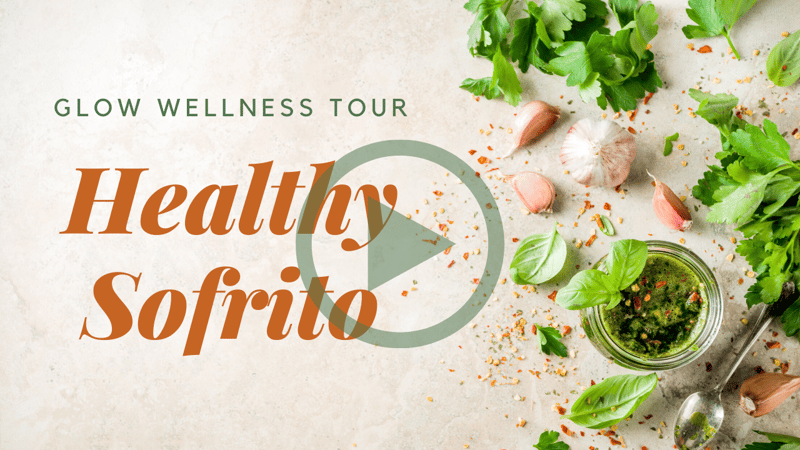 YOU'LL RECEIVE:
Virtual pre-recorded cooking class you can watch at home, from the comfort of your computer
Step by step how to make your own HEALTHY sofrito at home
Ingredients list + links to where you can get some the ingredients from our favorite brands
Recipe PDF to download
♡ ♡ ♡
OPTION # 2: Loisa
Free of artificial ingredients, MSG, and unnecessary fillers, this NYC based brand is a great option I can definitely recommend.
They have several products, from their sazon, to their adobo. Check them out —> www.loisa.com and use code GLOW15 at checkout for a 15% OFF on your purchase.
♡ ♡ ♡
This is also a line of spices I love, created by my friend Kevin Curry whom you all know better as Fit Men Cook on Instagram!
All the blends are very low sodium, no fillers, or crazy chemicals. Check —> The Fit Cook Spices Blend on Amazon!
♡ ♡ ♡
Their 'Latin Sazon' blend, is a delicious mix of spices perfect for some of the favorite Latin dishes such as arroz con gandules, empanadas, or arroz con pollo.
Check the 'Latin Sazon' blend —> HERE
♡ ♡ ♡
All Bragg products have been a staple in my kitchen and pantry for YEARS! I'm just obsessed with their quality, brand's mission, and their variety of products.
Their organic sprinkle session is a delicious mix of 24 organic spices & herbs, without ANY type of additives, preservatives, or fillers.
Check it on Amazon —> Bragg's Organic Sprinkle Seasoning
♡ ♡ ♡
Hope this little list serves you… You deserve to cook with ingredients that are tasty but won't make you SICK.
Now let's get cooking!
Xo, C